Sign Up For On Going Events
Weekly Adoration Guardian 2019-2020
Council 13457 has committed to providing five Adoration Guardians each week of the month. Every Wednesday we will provide one Adoration Guardian at 7:00 to 8:00 PM, 8:00 to 9:00 PM, and 9:00 to 10:00 PM. On Thursday we will provide two Adoration Guardians from 9:00 PM to 10:00 PM. Click on the link below to sign up on a date you are available to serve during Fraternal Year 2019-2020.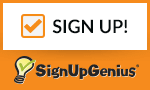 Sign Up For Up Coming Events
2019-2020 Officer Installation Ceremony
The ceremony will be on July 27th, at 6:30pm in the Atrium after the Vigil Mass. Immediately following will be a reception with finger foods and wine/beer. There is no charge for the event, and we are limited to 100 guests.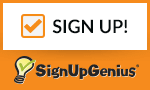 Serve Equip Families
Equip Families is completed until after Summer break. Keep checking back for a signup genius to sign up for a time slot where you can help serve.