Sign Up For On Going Events
Weekly Adoration Guardian 2019-2020
Council 13457 has committed to providing five Adoration Guardians each week of the month. Every Wednesday we will provide one Adoration Guardian at 7:00 to 8:00 PM, 8:00 to 9:00 PM, and 9:00 to 10:00 PM. On Thursday we will provide two Adoration Guardians from 9:00 PM to 10:00 PM. Click on the link below to sign up on a date you are available to serve during Fraternal Year 2019-2020.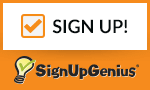 Sign Up For Up Coming Events
Family Mass and Potluck
Council 13457 will be serving spaghetti with meatballs, salad, and ice cream. Help is needed prepping and cooking, serving food and ice cream, and with dish washing and clean up. Please click on the button below to view the online sign up sheet.

Serve Equip Families
The next Equip Families is scheduled for October 13th. Check back for a signup genius to sign up for a time slot where you can serve..